[ad_1]

Cheesecake Factory Loaded Baked Potato Tots are a tasty appetizer or snack. These crispy tater tots have a delicious filling of mashed potatoes, bacon, cheese, and green onion. You are going to love this crispy potato tots.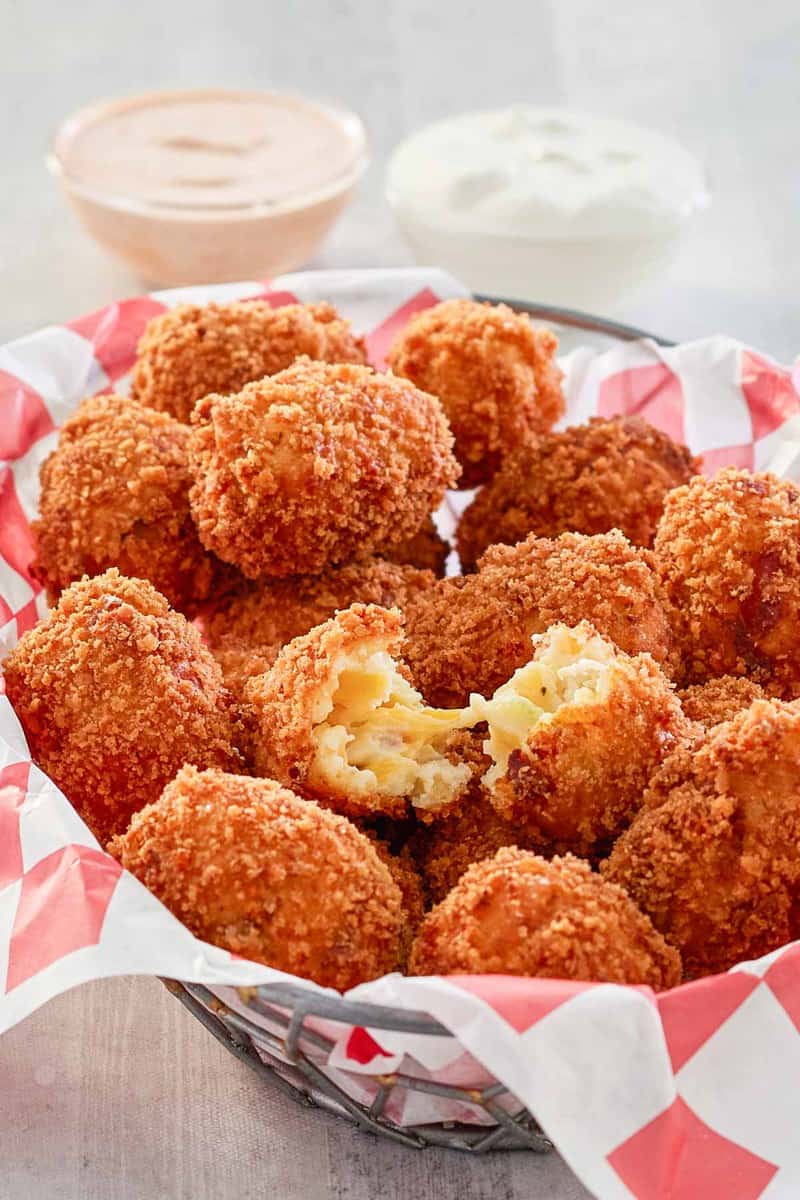 This post contains affiliate links. As an Amazon Associate, I earn from qualifying purchases.
What Are Loaded Baked Potato Tots? 
Forget the boring school cafeteria tater tots you ate as a kid. Cheesecake Factory Loaded Baked Potato Tots are something completely different.
These potato tots deliver a crispy crust with a filling of smooth mashed potatoes mixed with smoky bacon, creamy cheeses, and the mild bite of sliced green onions. 
What Makes This Recipe the Ideal Way To Use Up Leftover Mashed Potatoes 
Many other recipes for homemade tater tots require you to cut, boil, and dry potatoes. That's a heck of a lot of work.
This recipe simplifies the prep by using mashed potatoes instead. Sure, it is definitely worth whipping up a new batch just to make these loaded potatoes, but if you happen to have leftover mashed potatoes sitting in your fridge from last night's dinner, so much the better.
Ingredients
Don't feel intimidated by the long list of ingredients in this Cheesecake Factory Loaded Baked Potato Tots recipe. These tots are actually simple to put together. The ingredients are grouped to make things a little more organized when you make the tots:
For the potato filling, you'll need:
Mashed potatoes
Cream cheese
Cheddar cheese
Bacon
Egg
Green onions
Cornstarch
AP flour
Kosher salt
Ground Black Pepper
For the breading, you'll need:
AP flour
Eggs
Cold water
Panko breadcrumbs
To fry the tater tots, you'll need:
To serve the loaded potatoes, you'll need: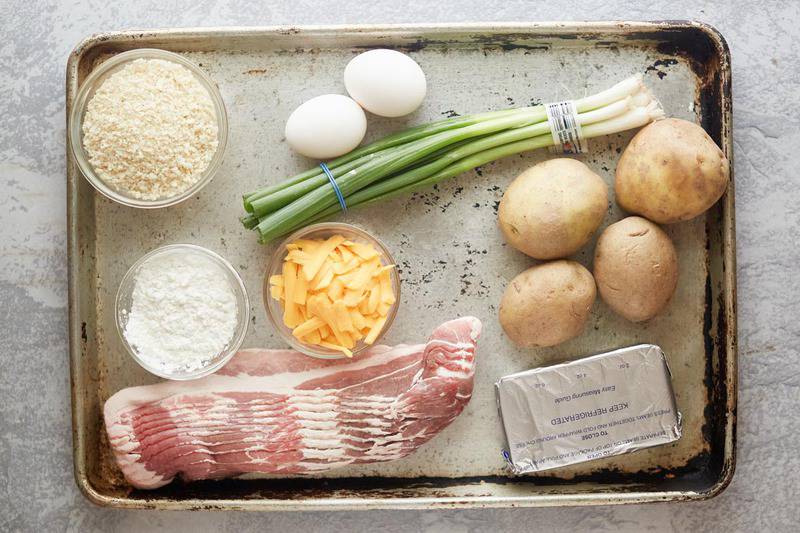 How To Make Loaded Baked Potato Tots
Here are the steps for making these tasty tots:
To prep:
Cook the bacon. You want the bacon to be extra crispy, so add two or three minutes to the stated cooking time. 
When the bacon is nice and crisp, remove it from the oven and cool on a wire rack.
While the bacon cools, wash the green onion and thinly slice the dark green part. Save the rest for another use. 
Crumble the bacon into large bacon bits. 
To make the filling:
The secret to preparing great tots is not overmixing the mashed potatoes. You can save time by throwing all the ingredients for the filling into a large bowl and mixing, but the filling's texture won't be as nice as preparing each part of the filling separately:
Stir together the cream cheese and grated cheddar cheese in a bowl.
Add a beaten egg to the cheese mixture and stir to combine. 
Place the cold potatoes in a separate mixing bowl. Sprinkle the flour, cornstarch, salt, and pepper over the top. Add the cheese mixture, bacon, and sliced green onions. 
Use a rubber spatula to fold the other ingredients into the cooked mashed potatoes.
Spread the potato filling onto a parchment-lined baking tray and place in the freezer until cold, about 20 minutes.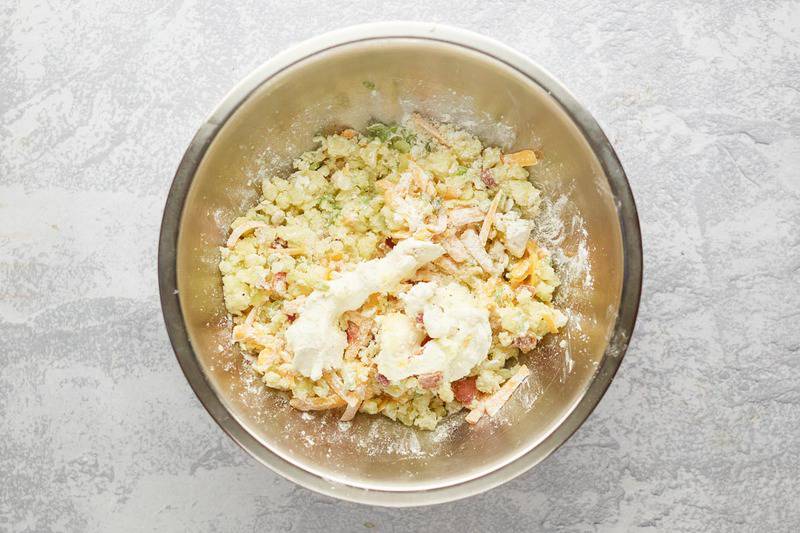 To form the cheesy tots:
Remove the potato filling from the freezer. 
Use a small food scoop to portion all the cold filling into tot-sized balls. 
Wet your hands. 
Place a ball of filling in the palm of one hand and curl your fingers around it to gently squeeze the filling into a round shape while flattening the ends with the fingers of your other hand.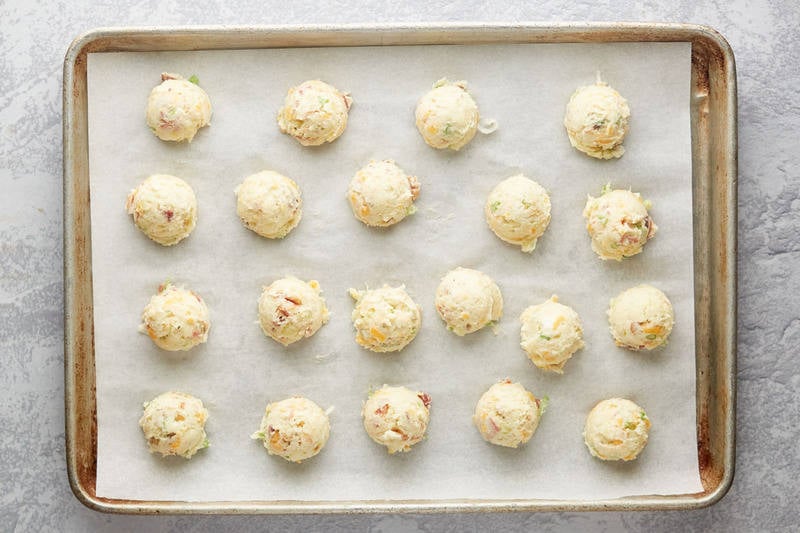 To bread the potato tots:
Set up a breading station with three shallow containers of flour, beaten eggs, and panko bread crumbs. 
Place a wire rack over a rimmed baking tray at the end of the line.
Use your right hand to coat three or four tots in flour, and drop them in the egg container. 
Use your left hand to coat the tots with the eggs and then drop them into the container with the panko breadcrumbs.
Switch back to your right hand to coat the tots in the bread crumbs and place them on the wire rack.
Repeat until you bread all the tots.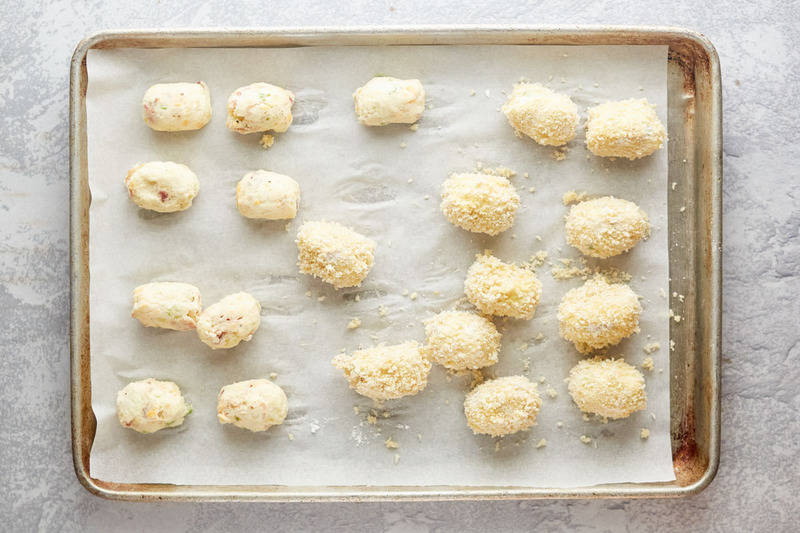 To fry:
Fill a deep fryer or a wide, heavy-bottomed pot with at least three inches of oil. 
Heat the oil to 350 degrees. If you are not using a deep fryer, it is worth buying a clip-on thermometer to check the temperature of the oil. 
Once the oil is hot, carefully add a handful of tater tots to the oil. Don't add too many, or the oil temperature will decrease, and your tots will be greasy.
Fry the tater tots until they are golden brown, about a minute and a half, turning once. 
Remove the tots using a frying basket or spider, and drain on a paper towel-lined baking tray. Season with salt while still warm.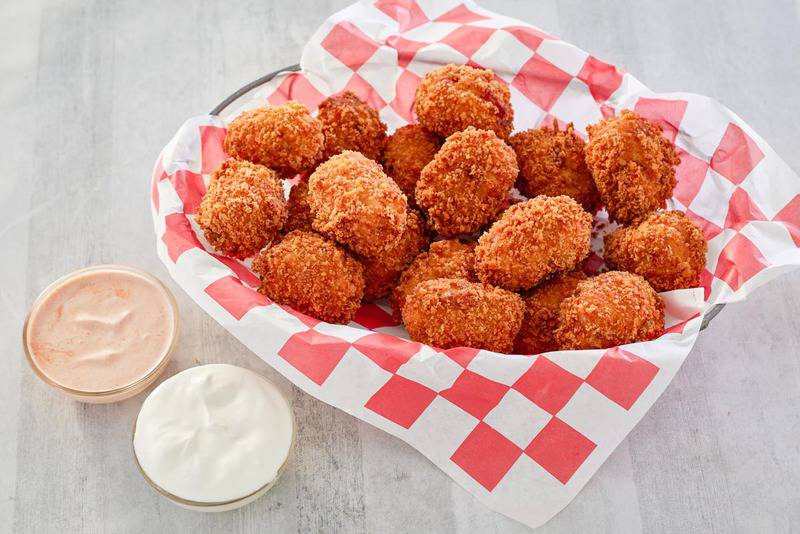 How To Serve Loaded Tater Tots
Serve on a parchment-lined platter to help soak up any excess grease. Don't forget to leave room on the platter for a few bowls of dipping sauce. 
What To Serve With Cheesy Tots
It's best to offer a selection of dipping options with Cheesecake Factory Loaded Baked Potato Tots. Try these:
How To Store Leftover Loaded Tater Tots 
Cool the tater tots to room temperature on a wire rack. You can keep them in an airtight container in the fridge for up to three days or in the freezer for up to three months.
If you want to freeze the tots, quick-freeze them first by putting the cooled cheesy tots on a baking tray and sticking them in the freezer for two to three hours until they are frozen solid. Then you can transfer the frozen tots to an airtight freezer-safe container. 
How to Reheat Loaded Tater Tots
You can reheat refrigerated or frozen potato tots in the oven or the air fryer.
To reheat in the oven:
Preheat the oven to 400°F.
Place the tots on a rimmed baking tray and cover them loosely with aluminum foil.
Reheat for about 12 minutes for thawed tots; 20 minutes for frozen ones. 
To reheat in the air fryer:
Preheat the air fryer to 380°F.
Reheat tots straight from the fridge for about 6 minutes, and tater tots from the freezer for 10 to 12 minutes. 
This recipe for Cheesecake Factory Loaded Baked Potato Tots comes directly from the Cheesecake Factory, you can find their original recipe on their webpage. This recipe was posted here with their permission.
Love Cheesecake Factory Cheesecakes? Try These Copycat Recipes
Favorite Appetizer Recipes
Check out more of my easy appetizer recipes and the best copycat restaurant recipes here on CopyKat!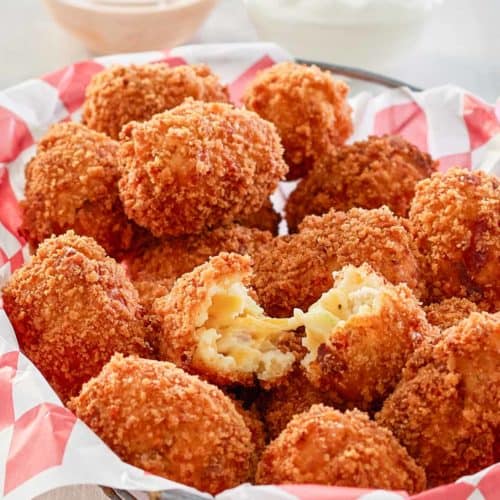 Cheesecake Factory Loaded Baked Potato Tots
You can make Cheesecake Factory loaded baked potato tots at home with this easy copycat recipe. These crispy tater tots have creamy mashed potatoes, bacon, cheese, and green onion.

Print
Pin
Rate
Add to Collection Go to Collections
Servings: 2
Calories: 1049kcal
Ingredients
Potato Mixture
2

cups

cold lumpy mashed potatoes

1/2

cup

cream cheese

1/2

cup

grated cheddar cheese

1/2

cup

bacon

cooked & chopped to about ½-inch

1

egg

beaten

1

bunch

green onions

thinly sliced

1

tablespoon

cornstarch

1

tablespoon

all-purpose flour

1/2

teaspoon

coarse salt

1/2

teaspoon

ground black pepper
Breading
2

cups

all-purpose flour

6

eggs beaten with 1 tablespoon of cold water

4

cups

panko breadcrumbs
Cooking and Serving
canola or vegetable oil for frying

coarse salt

to taste

1/2

cup

sour cream for dipping

1/2

cup

sriracha mayo for dipping
Instructions
Potato Mixture
Place the potatoes, cheeses, bacon, green onion and egg into a large bowl and mix together with a rubber spatula.

Sprinkle the cornstarch, flour, salt and pepper over the mixture, gently folding to combine.

Line a baking sheet (that will fit in your freezer) with foil and sprinkle lightly with flour.

Scoop the potato mixture, into walnut size scoops onto the prepared baking sheet spaced evenly apart. Place into the freezer for approx. 30 minutes to allow to hard but not freeze completely.

Remove from freezer and gently roll into "tot shape". Place back into freezer to freeze completely.
Breading
Place the flour, egg & panko breadcrumbs into three separate containers.

Remove the tots from the freezer and working in batches, dredge into the flour shaking off any excess, then dip into the egg draining off any excess and finally dredge into the breadcrumbs coating completely. Repeat until all tots are breaded.
Cooking and Serving
Heat oil to 350°F.

Working in batches, fry tots for 1-1/2 to 2 minutes or until hot throughout.

Remove from oil and drain over paper towels, seasoning with salt while still hot.

Serve with sour cream and sriracha mayo for dipping & enjoy!
Nutrition
Calories: 1049kcal | Carbohydrates: 85g | Protein: 34g | Fat: 64g | Saturated Fat: 29g | Polyunsaturated Fat: 7g | Monounsaturated Fat: 21g | Trans Fat: 1g | Cholesterol: 305mg | Sodium: 1533mg | Potassium: 1301mg | Fiber: 7g | Sugar: 6g | Vitamin A: 1610IU | Vitamin C: 44mg | Calcium: 381mg | Iron: 5mg
[ad_2]

Source link