[ad_1]

Are CC by Mel, The Resort Cafe at Sunway Hotel, and Finch KL worth a foodie's visit? Find out in our review(s) below
With so many new eateries and refreshed menus to check out in the Klang Valley, you're probably wondering which ones are actually worth a visit. Fret not, we've volunteered as tribute to taste some of the latest offerings at promising cafes and restaurants in town.
In this edition of Eats-A-Review, we dish our thoughts on the signature dishes from CC by Mel Japanese restaurant in Bukit Jalil; the latest culinary delights from The Resort Cafe in Sunway Hotel; and Finch KL's new Hiru-Tea menu.
Since relocating to a larger second-floor shoplot in The Park Sky Residence Bukit Jalil last January, CC by Mel has seen a steady stream of visitors thronging its bright, sunlit space. Located just a stone's throw away from Pavilion Bukit Jalil, the restaurant serves as a convenient pit stop for shoppers and locals to enjoy a casual yet graceful Japanese fusion meal in the developing neighbourhood.
I walked in for brunch on a Saturday just before the crowds started coming in. The weather was perfect, with the sun illuminating the restaurant's minimalist interiors punctuated by neatly arranged potted plants: a magnet for social media shutterbugs. Equally Instagram-worthy are the items on the menu, which pay respect to founder Melanie's background as a home-based florist with their colourful edible flower garnishes.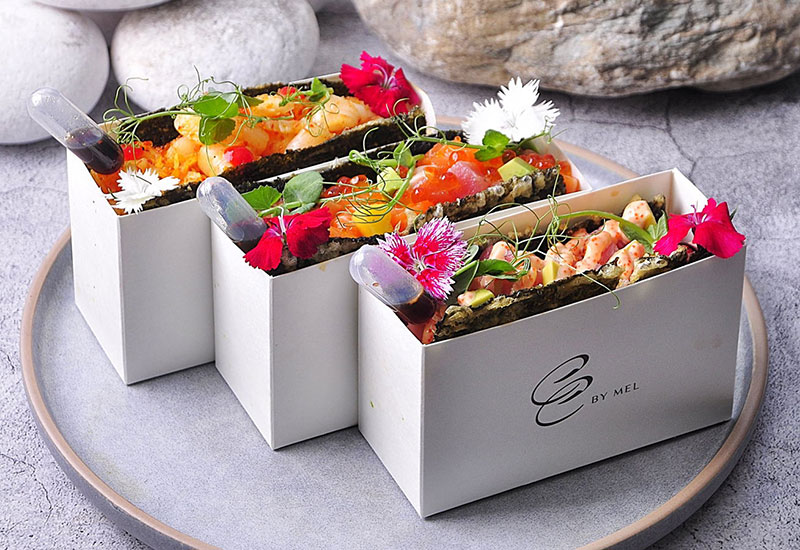 After trying more dishes than you can count on one hand, I've rounded up my top picks that taste as good as they look. First is the signature Trio Taco Box (RM68), featuring the Tropica Nori (salmon and tuna), Ebi Nori (prawn), and either the Yu Nori (tuna) or Gyu Nori (beef). Each snack comes with a mini pipette to squeeze in the soy sauce, enhancing the umami flavours of the toppings. Bonus: The size of the tacos was actually larger than I'd expected and ideal great for sharing.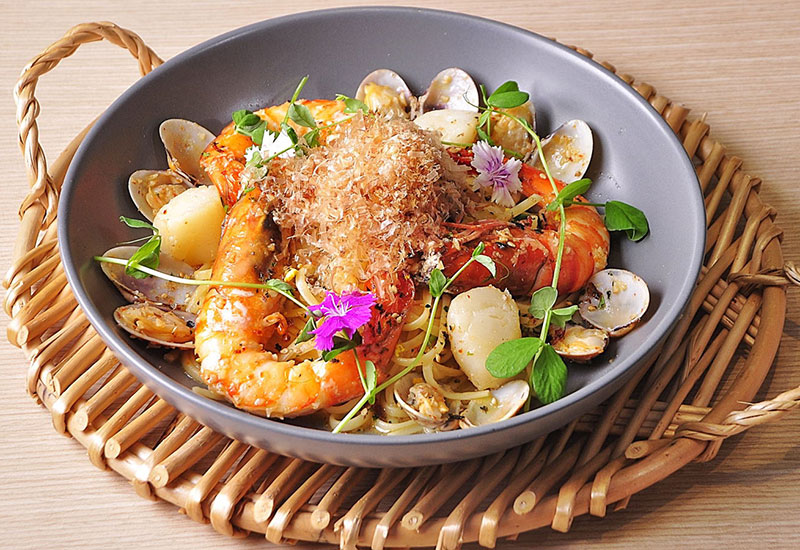 Next is the White Tiger Olio (RM42), a pasta dish comprising generous portions of tiger prawns, asari clams, hotate scallops, and baby spinach, topped with chilli flakes and katsuoboshi. Another crowd-favourite pasta (you'll find it under the signature section) is the Ocean Capellini (RM35), a delightful combination of salmon maguro ebi sashimi and ikura, dressed with truffle oil, goma tare and lime. Both dishes offered fresh seafood, well-cooked pasta, and balanced flavours that make them easy hits on the menu.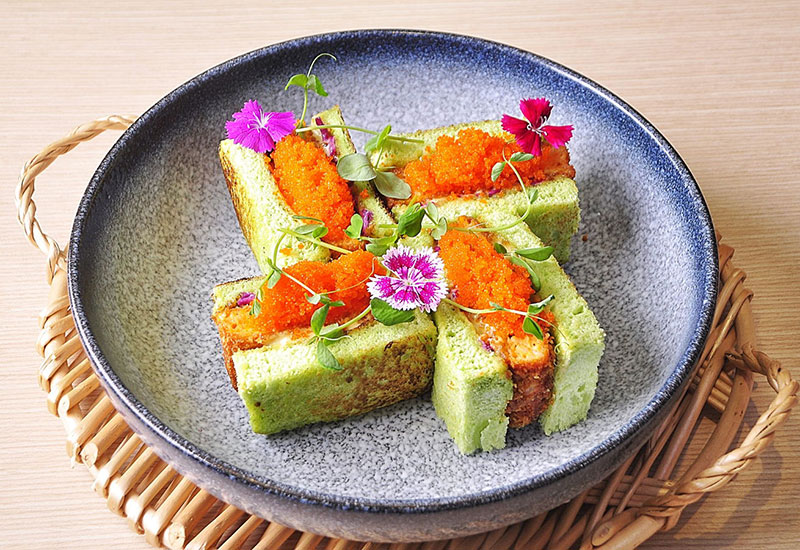 Other worthy mentions include the Ebi Matcha Sando (RM42), featuring ebi katsu and tamago sandwiched by a slightly toasted yet fluffy Hokkaido loaf; as well as the Angus Don (RM68), an indulgent dish for those who prefer meat over seafood. Overall, CC by Mel is definitely worth a visit if you appreciate aesthetic spaces with respectable dishes to boot. — Natalie Khoo, Lifestyle Editor
Address: Residensi Park, 2-13, Persiaran Jalil Utama, Bukit Jalil, 57000 Kuala Lumpur, Federal Territory of Kuala Lumpur
Opening hours: 11am to 10pm daily
Contact: 0169868612
Website | Facebook | Instagram
---
With Sunway Resort recently having undergone a revitalisation project, The Resort Café also has a new a la carte menu showcasing Chef De Cuisine Afiq Matkhir's wealth of experience and global travels. Before winning numerous culinary competitions and landing coveted roles in the kitchens of Jumeirah, Marina Bay Sands and Pangkor Laut Resort, Chef Matkhir studied and trained in Italy.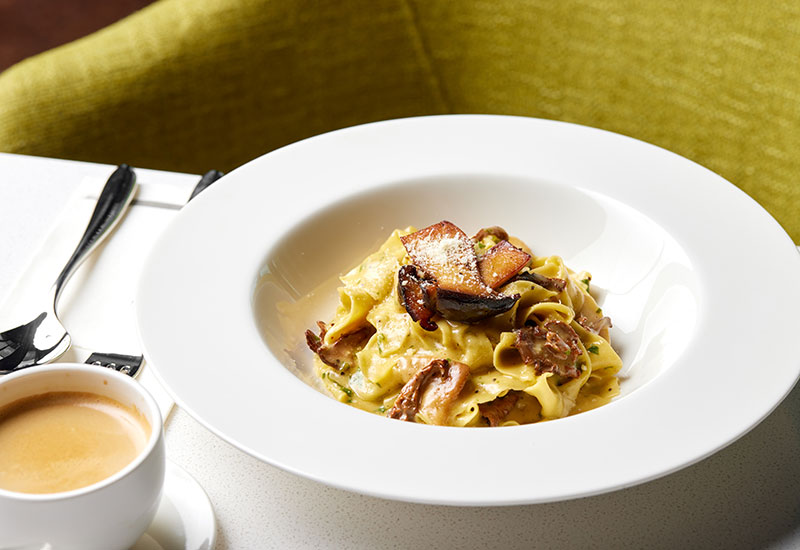 It's why his pasta is divine. The Porcini Pappardelle—combining homemade pasta, porcini mushrooms, sage and butter scallion—is creamy, earthy and rustic in the very best way. Should you prefer a Malaysian take on comfort food, there's the very flavourful Blue Prawn Laksa. Its aromatic coconut curry broth hasn't been toned down in an attempt to "internationalise" it, while huge fresh river prawns, clams and squids remind you that this bowl of laksa is an indulgent treat. Don't let the fact that you're dining at a hotel deter you from ordering it.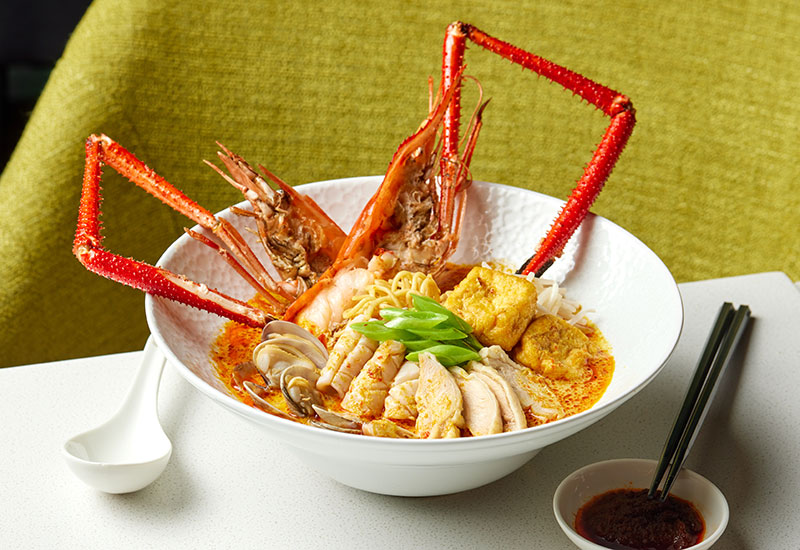 Speaking of indulgences, my personal favourite off the breakfast menu is Cod Benedict with Caviar. That's read: in a luxurious twist on this brunch staple, Chef Matkhir has opted for cod, in a creamy brandade, instead of smoked salmon. I'm very partial to cod when it's done well, as this is. The fish also stars in another winner in my books: Filo Fish and Chips, where filo pastry takes the place of bread crumbs in coating and crumbing the deliciously juicy cod fillet. It's light, crunchy and really one of the best I've had.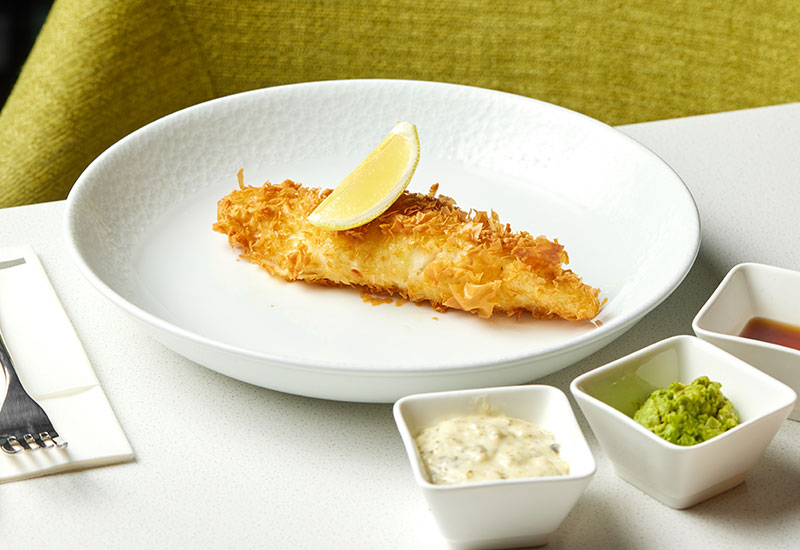 For breakfast—or brunch, if you're not an early bird—that also tastes like dessert, do get the Pavlova Waffle, where smashed meringue adds a fun, crunchy texture to fluffy waffles topped with chantilly cream and assorted berries. You can't go wrong too with the signature Tiramisu with Mascarpone Cheese Trifle—it's not new, but there's a reason it's remained on the menu.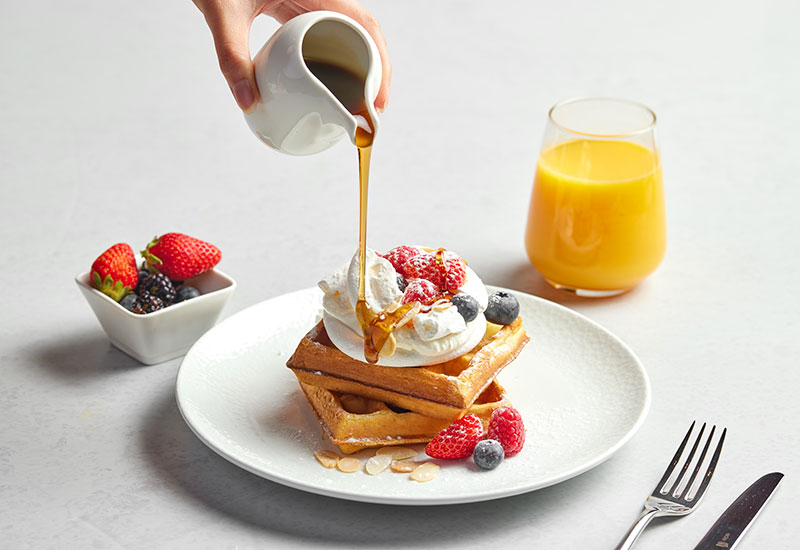 Other highlights include the 220gm Mushroom-rubbed Wagyu Sirloin, and Beef Noodle Soup with slow-braised Australian Beef Brisket (inspired by the beef noodles Chef Matkhir ate in Taiwan). With 19 new dishes, The Resort Café offers both variety and refinement to satisfy all ages from 11am to 11pm daily. — Adelina Tan, Deputy Editor
Address: Lobby Level, 1, Persiaran Lagoon, Bandar Sunway, 47500 Petaling Jaya, Selangor
Opening hours: 6am to 10.30pm daily
Reservations: +603 7495 2009 | +6019 381 5568 (WhatsApp) | [email protected] 
Website | Facebook | Instagram
---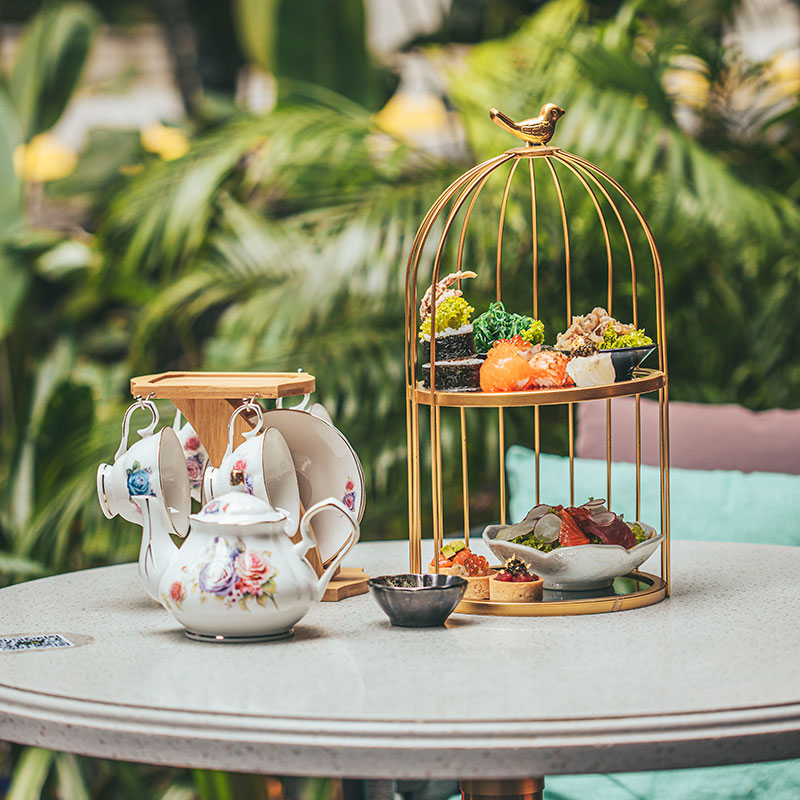 Think 'afternoon tea' and what usually comes to mind are dainty sandwiches, pastries and cakes. Some give it a Malaysian flair with local tea-time treats, but the whimsical Finch has looked further east for inspiration for its ​​Hiru-Tea. Available daily from 12pm to 6pm and just nice for two moderate eaters, the selection includes petite portions of Sashimi Salad; Chuka Wakame; Chuka Hotate; Yawara Kani Maki; Salmon Ball Nigiri; Chef's Selection Sashimi; and Mini Tarts with Salmon, Maguro and White Fish.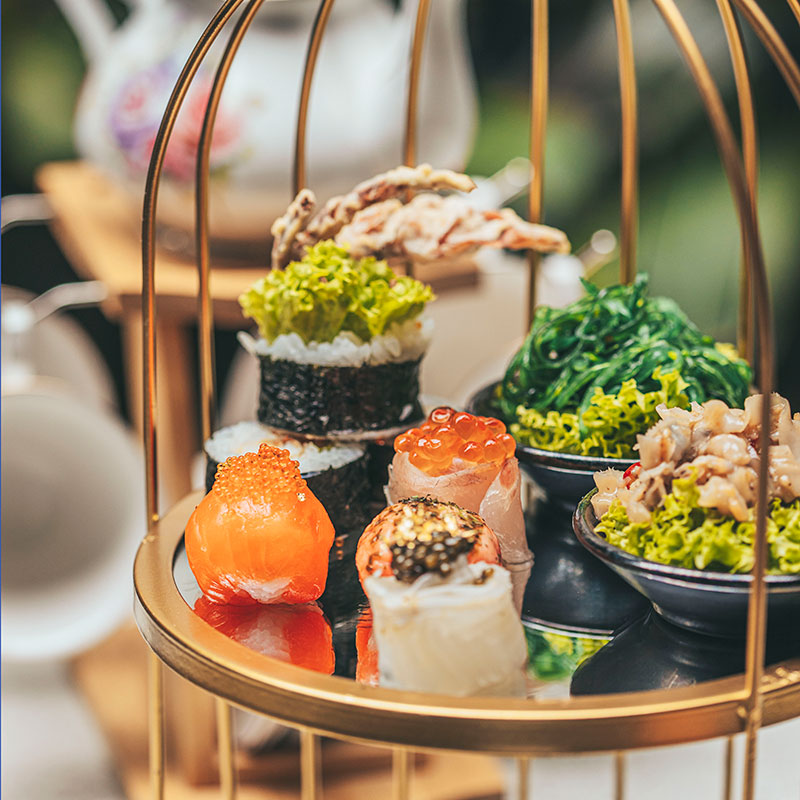 These are presented in a multi-tiered platter crafted to resemble a gilded bird cage. In typical Finch fashion, where (generally pleasant) surprises are an element of the dining experience, they've eschewed minimalist Japanese tea cups for Western ones decked in flowers. The tea selection is, likewise, more West than East: ​​there's Earl Grey, chamomile, and moringa tea. Green tea is part of the list too, but where is the fun in picking an obvious option.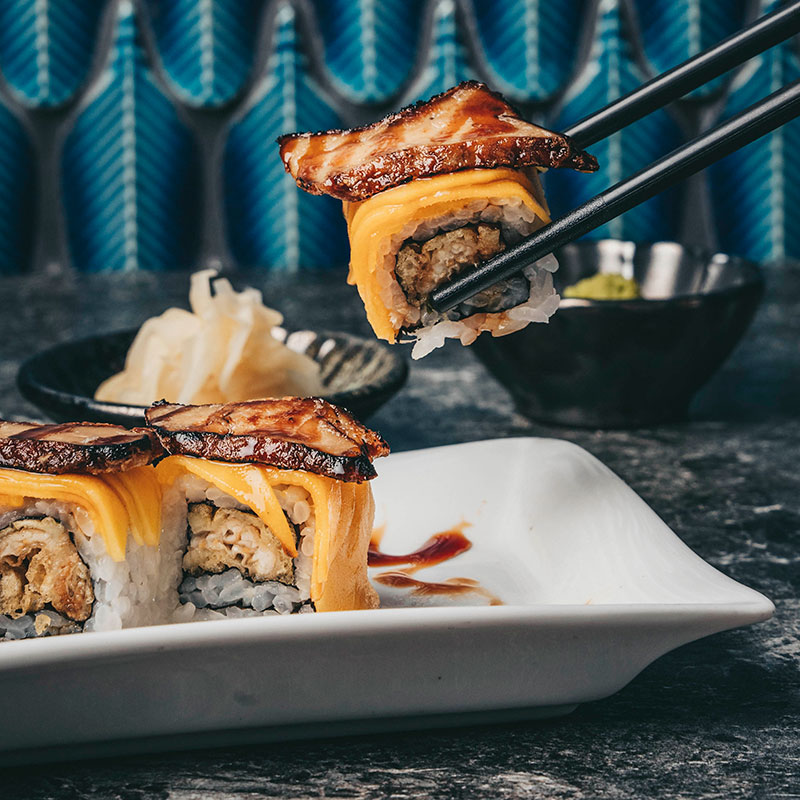 The overall effect is surreal—part Alice in Wonderland, part Murakami. While you can order similar portions at Japanese restaurants, they don't come in this particular combination and presentation. It's also a plus that Finch does fusion Japanese food quite well. In addition to the Hiru-Tea, I recommend ordering the signature Foie Gras Anago Maki and the spicy Tsurai Aburi Salmon Maki. For those who enjoy carpaccio, Ocean Mikkusu—a platter with different types of fish—and Tokyo Hamachi are new additions to the menu.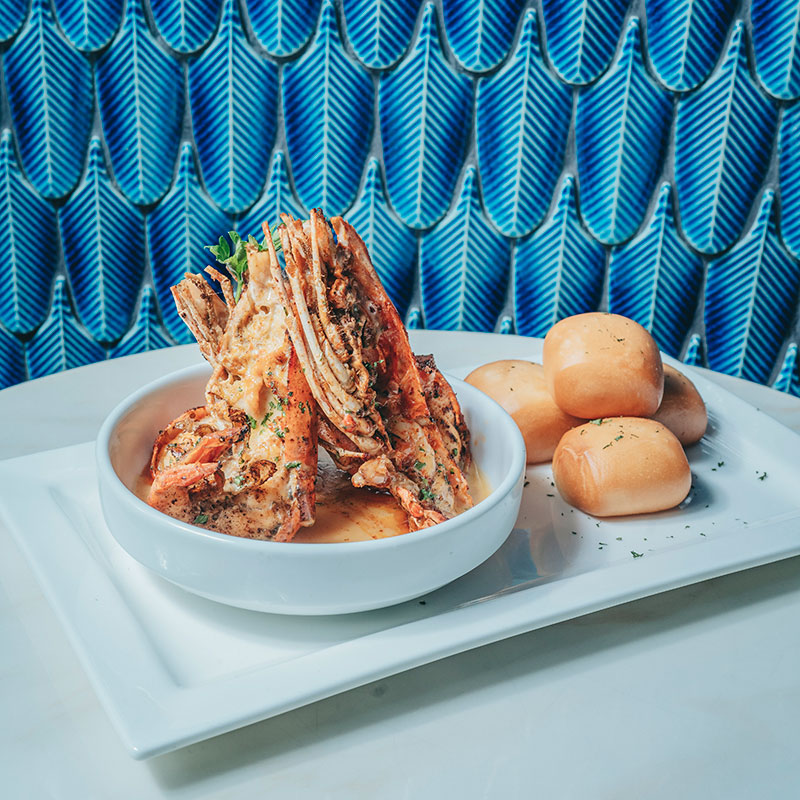 If Japanese food isn't really your thing (kudos for making it this far into the review), perhaps the ​​Spicy Butter Fresh Water Prawns will whet your appetite. You'll be tempted to soak up every inch of the rich butter gravy with the dish's other surprising star: Fried Man Tao buns that are crispy on the outside, fluffy on the inside.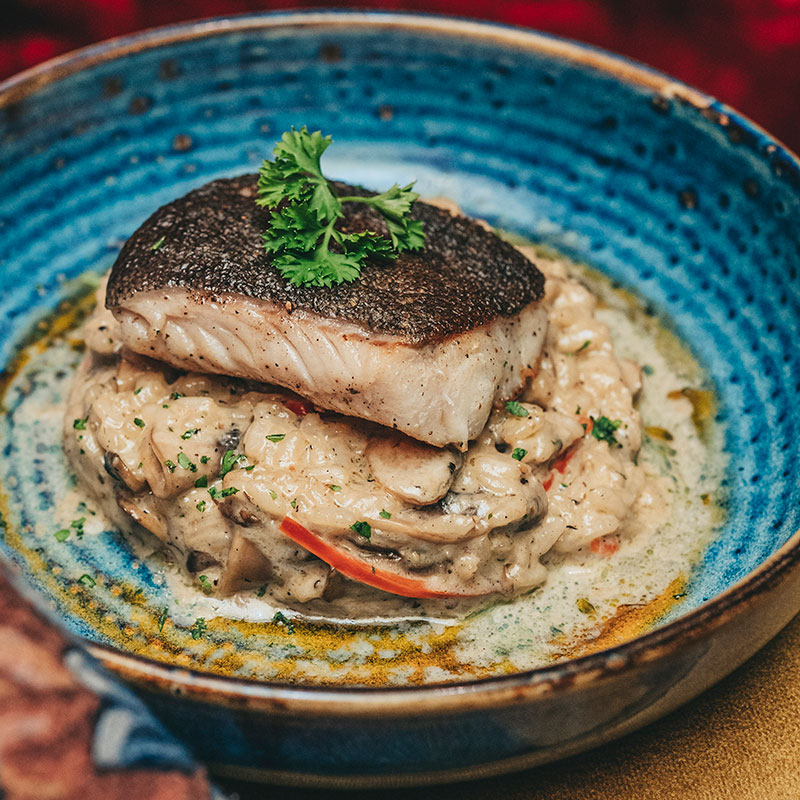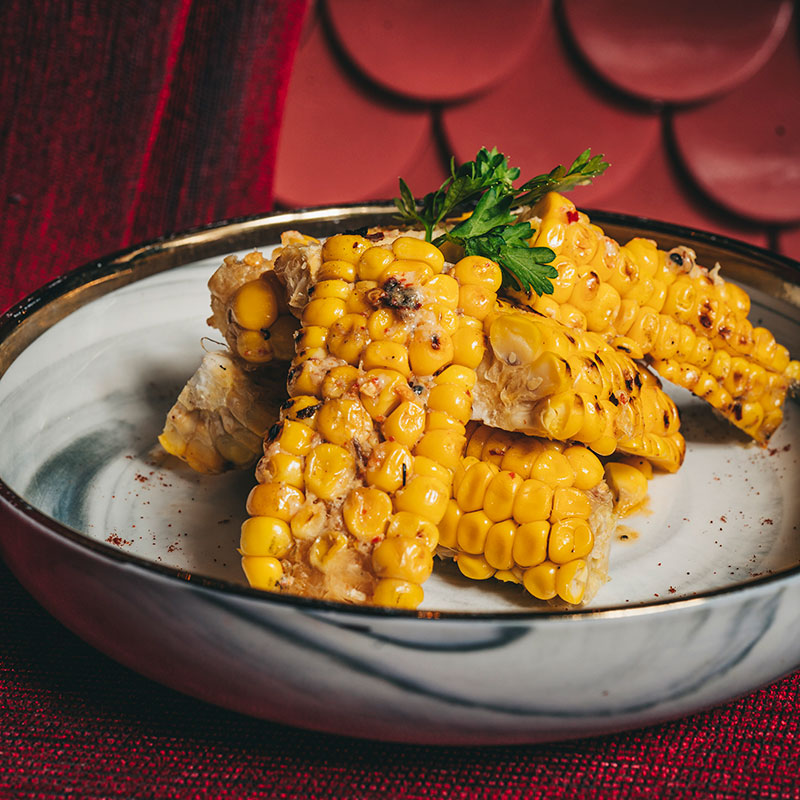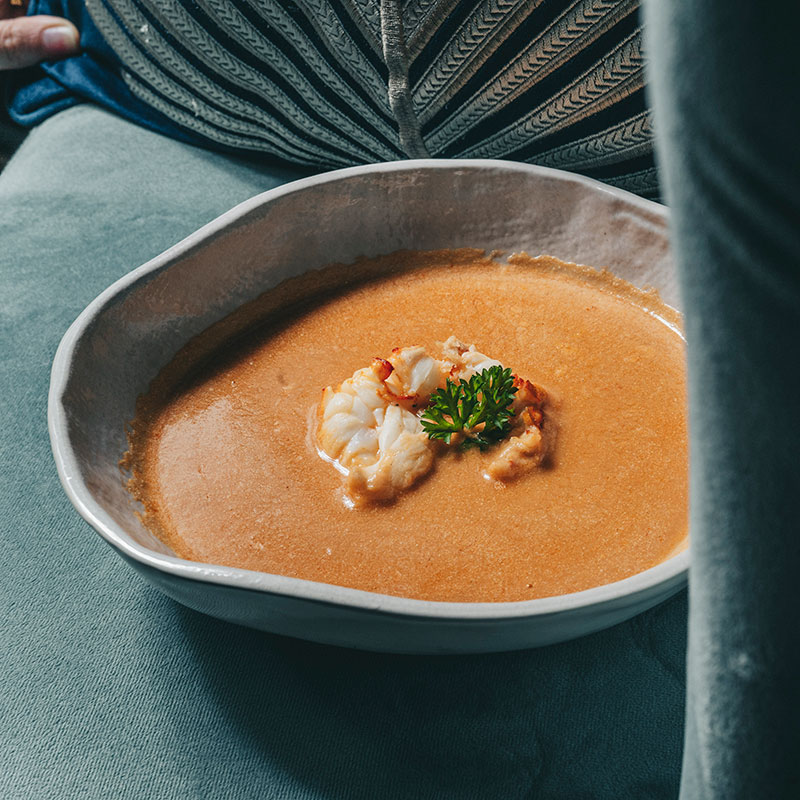 Also new to the menu is the Black Cod with Mushroom Risotto. It pairs premium Alaskan black cod with creamy, chewy arborio rice and earthy button mushrooms—creating a smorgasbord of flavours that will have you agreeing with the chef's recommendation of this dish. To feel better about your diet and balance up your meal, get the Grilled Corn seasoned with tangy yuzu, chilli, butter, and anchovies. Alternatively, go all out and treat yourself to the Lobster Bisque if you prefer an entree with stronger flavours. — Adelina Tan, Deputy Editor
All items on the menu are available at Finch KL at The Westin Kuala Lumpur. Selected items are available for delivery via Beepit.
Address: Lower Ground, Level 1 & 2, The Westin Kuala Lumpur, 199, Jln Bukit Bintang, 55100 Kuala Lumpur
Opening hours: 12pm to 12am (weekdays) | 10am to 12am (weekends)
Contact: +6010 308 0888
Read more food reviews here.


[ad_2]

Source link