Holiday favorites | Traditional, ethnic Easter foods evoke feelings of nostalgia | Features
10 min read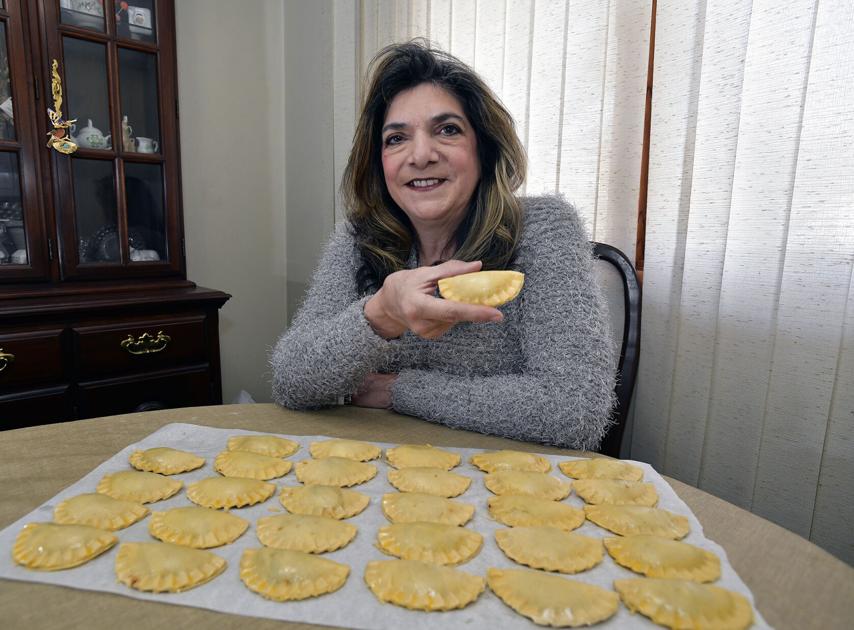 With Easter right around the corner, area residents are starting to plan holiday meals.
Foods vary from the traditional to ethnic favorites, and tables are often adorned with an array of entrees, side dishes and desserts.
For Teena Petrus, the Easter recipes she prepares has been passed down from her mother and grandmother.
A family favorite is prune pierogies with caramel sauce.
"My mother used to make pierogies all the time," the Westmont woman said.
"It was just an inexpensive, very filling meal. I picked it up from her and kind of ran with it and I started doing different fillings. The one that caught my eye was the prune filling."
Petrus said she is not a big fan of prunes, but her prune pierogies are more of a dessert.
"This is a very sweet, very gooey filling and you wouldn't even think it's prunes," she said. 
Petrus said prior to the Easter holiday, she'll make and freeze dozens of pierogies.
"If you're making a little or making a lot, you're still making a mess, so you might as well make several dozen," she said.
"I'll block out an entire afternoon when I make the dough."
The dough is put together in a bread machine.
"I can be working with one batch while the other batch is mixing in the bread machine and resting," Petrus said.
"It's like having another set of hands in the kitchen."
She said the dough is a simple egg dough – made up of flour, water, salt, melted butter and eggs.
"Basically, you combine all the ingredients, knead it until it's smooth and cover it in a bowl and set it aside for five minutes and let it rest and then I knead it again," Petrus said.
"I slice off a chunk and I have a pasta machine that you crank the dough through and it makes this beautiful even sheet of dough. As far as shaping them, if it's for company, I'll stamp them out with a tuna-fish can.
"If it's for just us, I'll cut them into squares, fold them into triangles and seal the edges because that's much faster."
The prune filling is 8 ounces of prunes, lemon juice, sugar and vanilla.
"When you're cooking with fruit, anything that's dried, you have to rehydrate it before you cook it because if you don't, it'll draw water from whatever is around," Petrus said.
"You use enough water to cover the prunes, bring it to a boil and let it simmer for 20 minutes and mash everything together and that's your filling."
The caramel sauce is brown sugar, butter, milk and vanilla.
"You bring it to a boil, cook until thick and serve it over the pierogies," Petrus said.
She said her children, Donovan and Veronica, and boyfriend, Russ, enjoy them and she often shares them with friends.
"It's a traditional Easter food for us, but it's something that I serve year-round," Petrus said.
"Once you start making your own, they taste so much better than the ones out of the freezer case in the grocery store."
She also makes Abruzzi Fiadone, an Easter pastry that originated from the Abruzzi region of Italy.
"This is something my grandmother always made and it was a traditional Easter dish at our house," Petrus said.
"It's a savory cheesecake almost like a heavy quiche."
She said it's a simple crust and the filling is comprised of eggs, Romano or Parmesan cheese, black pepper, fresh parsley and some type of spicy meat.
"It's a beautiful pie and very savory and you can only eat a little bit of it at a time because it's extremely rich," Petrus said. 
"It's an appetizer or side dish, almost a bread. It's served with the meal, but it's on the side."
She said making these Easter foods gives her a nostalgic feeling.
"You don't notice it when you're in the house, but when you go outside and come in and you smell everything, it smells like my mom's house at Easter," Petrus said.
"She passed away a couple years ago and it's a happy memory."
Barbara Bartkovich grew up watching her mother make Cirak and has carried on making the traditional Slovak Easter cheese.
"My mother made it every Easter and you'd put it in your basket to be blessed on Holy Saturday," the Southmont resident said.
"It's the first thing that you eat Easter Sunday morning. It's your Easter breakfast."
Bartkovich typically makes the cheese once a year for the holiday and starts preparations on Good Friday evening.
"You have a dozen eggs, a quart of milk and some people put a spoonful of salt in, and you put it together in a pan on the stove and with a hand mixer, mix it as it's cooking until it resembles scrambled eggs," she said.
"You pour it into a cheesecloth and tie it really tight so all the liquid will drain. Then hang it overnight, and the next morning, it's all nice and solid."
Bartkovich serves Cirak sliced and she likes to put a little bit of salt on it.
"I'll share it with family and friends and everyone seems to like it," she said.
Bartkovich is planing to make the cheese this year and have it blessed in a basket with other Easter foods.
She said it's important for her to continue making Cirak because it's a family tradition she wants to keep alive.
"We sat together, we said our grace together and we ate together, it's that family thing that makes me want to continue to do it," Bartkovich said.
"When I'm making it, it brings back memories of my mom, standing at the stove mixing it with a wooden spoon.
"It reminds me of the way things were."
Johnstown resident Tina Mirilovich has been making paska, a traditional Easter bread, for many years.
"My mother made it all the time for Easter," she said.
"My mom was Italian and my dad was Croatian and she made a simple Eastern European version and the bread we made was a rich egg bread and somewhat sweet."
Mirilovich said you shape the bread into a round and there are various decorations you could put on it.
"I do a braid around the edges to symbolize the crown of thorns that Christ wore and put a cross in the center," she said.
"Decorations can be pretty involved and are beautiful."
Mirilovich said she uses her mother's recipe but has experimented with it a bit.
"What I've learned making bread over the years is I've tweaked it to be more toward the way we like it," she said.
She'll start making the paska on Good Friday morning and make between five to seven loaves.
"One of the loaves will go in an Easter basket to take to church to be blessed," Mirilovich said.
"I also end up giving some away."
The process includes dissolving yeast in water, mixing that with flour and setting it aside to become bubbly.
"You take that mixture and add sugar, milk, shortening and eggs and egg yolks and any flavorings," Mirilovich said.
"I put some lemon and orange zest in. You keep adding flour to that and form a soft dough, which is then kneaded. You let that rise and punch it down and form it into your loaves. The loaves rise and you brush the top with an egg wash and bake it."
She said she serves the bread with ham and kielbasa and other holiday foods.
"It's served with the Easter meal, but we also have it for Easter breakfast after church," Mirilovich said. 
"There's also a cheese mixture called pashka that you spread on the paska. I've made it a few times, but it's not something I make every year."
She said as an avid baker and cook, she enjoys making the paska every Easter season.
"I know people look forward to it," Mirilovich said. 
"The tradition of it is heartwarming." 
Prune Pierogies with Caramel Sauce
Dough:
4 cups flour
1 cup warm water
½ teaspoon salt
2 tablespoons melted butter (not margarine)
2 eggs
Combine all ingredients. Knead thoroughly until a smooth dough is formed. Add more water if necessary. Cover with an inverted bowl and set aside for at least 5 minutes.
Prune filling:
8 ounces pitted prunes
1 teaspoon lemon juice
1 teaspoon sugar
½ teaspoon vanilla
To the above, add just enough water to cover the prunes. Bring to a boil. Simmer 20 minutes covered. Mash together filling.
• On a floured surface, roll long sections of dough to about 1/8-inch thick and 3 inches wide. A pasta machine will speed the process. Cut circles from the dough with a water glass or a pierogi cutter. Squares can also be cut from the strip. Place a heaping teaspoon of filling into the center. Fold over and seal the edge with fork tines. Brush the edge with a little water to seal.
• Drop finished pierogies into boiling salted water. Cook until pierogies float (about 8-10 minutes), drain.
Caramel Sauce:
1 cup packed brown sugar
¼ cup whole milk
½ cup butter (not margarine)
1 teaspoon vanilla
Bring sugar, butter and milk to a boil. Cook until thickened (1-2 minutes) Keep stirring or it will scorch.
Stir in vanilla and serve.
– Teena Petrus
Abruzzi Fiadone
Crust:
1 cup flour
2 tablespoon sugar
¼ teaspoon salt
½ teaspoon baking powder
1 egg
¼ cup milk
4 teaspoons olive oil
In separate bowls, mix dry ingredients. Whisk together egg, milk and olive oil. Pour wet ingredients into dry and knead until smooth ball is formed. Cover and set aside. Add more flour if the dough is too soft or sticky.
Filling:
12 eggs (reserve the yolk of 1 egg)
1 pound mixture of freshly ground Romano and Parmesan cheese
3 teaspoons freshly ground black pepper
¼ cup fresh parsley
¼ pound Genoa or Sopressata Salami sliced into thin strips
In a large bowl, break the yolks of the eggs and stir together yolks and whites (don't beat or whisk). Slowly stir, don't beat in the cheese, parsley, salami and black pepper until the mixture is combined.
On a floured surface, roll out the dough to 1/8-inch thick. Spray or grease an oven-safe mixing bowl (about 2 quarts). A deep springform pan can also be used. Place the dough in the bowl/pan and allow the edges to drape over. Pour the egg mixture into the bowl and fold the draped edges over the mixture. Bake at 400 degrees for ½ hour. Lower the temperature to 350 degrees and bake for 45 minutes. Take reserved egg yolk and mix with 1 teaspoon water and brush over the top and bake for another 5 minutes. Remove from the oven and allow to cool before cutting.
– Teena Petrus
Cirak – Slovak Easter Cheese
Ingredients:
4 cups milk
12 eggs
1 teaspoon salt
Measure milk into a bowl, and set over a saucepan filled halfway with simmering water. Heat until warm to the touch, then gradually start cracking eggs into the milk while stirring almost constantly. This will scorch very easily. Continue to stir slowly once all of the eggs are in, until the mixture resembles scrambled eggs.
Pour into a cheesecloth bag and tie tightly. Hang from the sink faucet or over a bowl and allow to drain for 1 to 2 hours. Place on a cooling rack set over a pan or bowl and set a heavy object on top to press out the liquid. A cool cast iron skillet weighted with heavy cans works well. Press for about 2 hours.
Carefully remove the weights and cheesecloth bag from the cheese. Refrigerate the cheese for several hours or overnight before slicing and serving.
– Barbara Bartkovich
Paska
Ingredients:
1 cup warm water (110 to 115 degrees)
1 tablespoon, plus 3/4 cup sugar
2 packages active dry yeast
1 (12 ounces) can evaporated milk (not condensed milk)
1½ teaspoons salt
½ cup butter flavored shortening or butter, melted
2 large whole eggs
4 large egg yolks
1 teaspoon vanilla
½ teaspoon lemon or orange zest, optional
7-9 cups all-purpose flour
2/3 cup raisins (golden or dark), optional
Egg wash (1 whole egg beaten with 1 tablespoon water)
In a large bowl, whisk warm water, 1 tablespoon sugar and yeast together. Whisk in 1½ cups flour. Set aside for 20-30 minutes to become bubbly.
To yeast mixture, whisk in remaining sugar, milk, salt, melted Crisco or butter, eggs, egg yolks, vanilla and zest; blend well. Whisk in 3 cups flour and blend well. Using a large spoon, stir in raisins, if using, then stir in flour, ½ cup at a time to form soft dough. Place dough in bowl of mixer with dough hook or turn dough onto floured surface and knead until dough is smooth and elastic, 5-8 minutes.
Place dough in greased bowl, turning dough over to grease top. Cover with plastic wrap and let rise in warm place 1-2 hours or until doubled. Turn dough onto lightly floured surface, gently deflate and divide into 3 parts, reserving one part to make decorations. Shape 2 pieces into a round loaf and place in greased round baking pans or baking dishes, approximately 6 inches in diameter.
Dough should fill the pans approximately 1/3 full, leaving room for decorations. Using reserved dough, decorate as desired with braiding, a cross, swirls, rosettes, etc. Let loaves rise in warm place, about 45 minutes or until almost doubled.
Heat oven to 350 degrees. Gently brush tops of risen dough with egg wash. Depending on size of loaves, bake 30-50 minutes until golden brown or until an instant-read thermometer registers 190 degrees. Cover top of loaves with foil if they start to get too dark. Cool loaves in pans 5 minutes, then remove and cool on wire rack.
Makes 2 loaves, but dough can be divided to make smaller loaves, reducing baking time.
– Tina Mirilovich