[ad_1]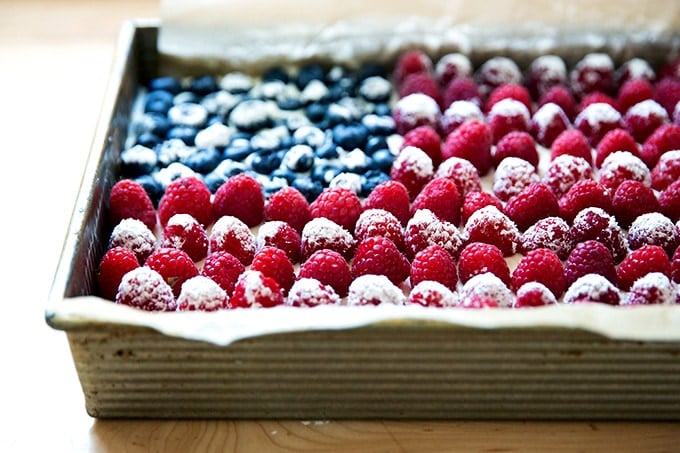 I have a hard time not making pastry-crusted and biscuit-topped bubbling berry desserts for occasions such as the Fourth of July, but earlier this week, a flag cake materialized, and I don't think my children will allow the holiday to pass from here on out without one.
I have wanted to make Deb Perelman's flag cake ever since she posted it ten years ago, and while I do regret not making it sooner, in some ways the timing was perfect. I had found myself with only one kid home, and I had told her she would "just have to entertain herself for the day." But when I saw her slump onto the couch, letting out a sigh of exhaustion after giving a somewhat good go at playing alone — riding once around the block on her bike, playing fetch with Pepe, writing a letter to her cousin Arabella — I asked: Should we make a flag cake?
She lept off the couch and squealed: Really?!
Yes, really. This was such a fun and simple baking project. Wren, who is 9 years old, weighed and mixed the batter with minimal supervision and decorated the entire cake herself. I helped with the frosting mostly because my Kitchen Aid is on its last legs and requires a forceful whack to kick the engine into gear.
The recipe, which is the same as this one-bowl buttermilk birthday cake recipe, is below, and I can't recommend it enough — the cake comes together in no time, the frosting is heavenly, and the berry-flag motif is oh so festive.
Friends, I'm wishing you all a Happy Fourth 🇺🇸🇺🇸🇺🇸🇺🇸 Below you'll find recipes for the best brioche burger buns, a few classic dips, many salads and sides as well as a few seasonal desserts and festive drinks, too 🎉🎉
This post is organized as follows:
---
A Few Dips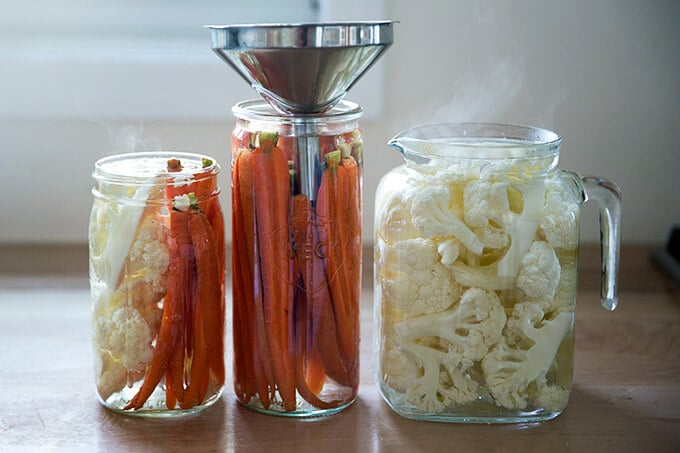 Have you ever tried pickling your crudité? I think it makes all the difference, and it's really very simple: stuff raw vegetables into jars; pour a basic brine over top. If time permits, plan ahead: ideally, do this the day before you plan on serving the crudite, just so the veggies have time to chill and crisp up in their brine.
I typically stick to cauliflower and carrots with the pickling. Then I cut up whatever else looks good: Romaine, endive, watermelon radishes if you can find them (not easy this time of year) or other radishes and turnips (readily available!) if you can't.
The veggies below are paired with this spicy cashew dressing/dip. It's one of my faves.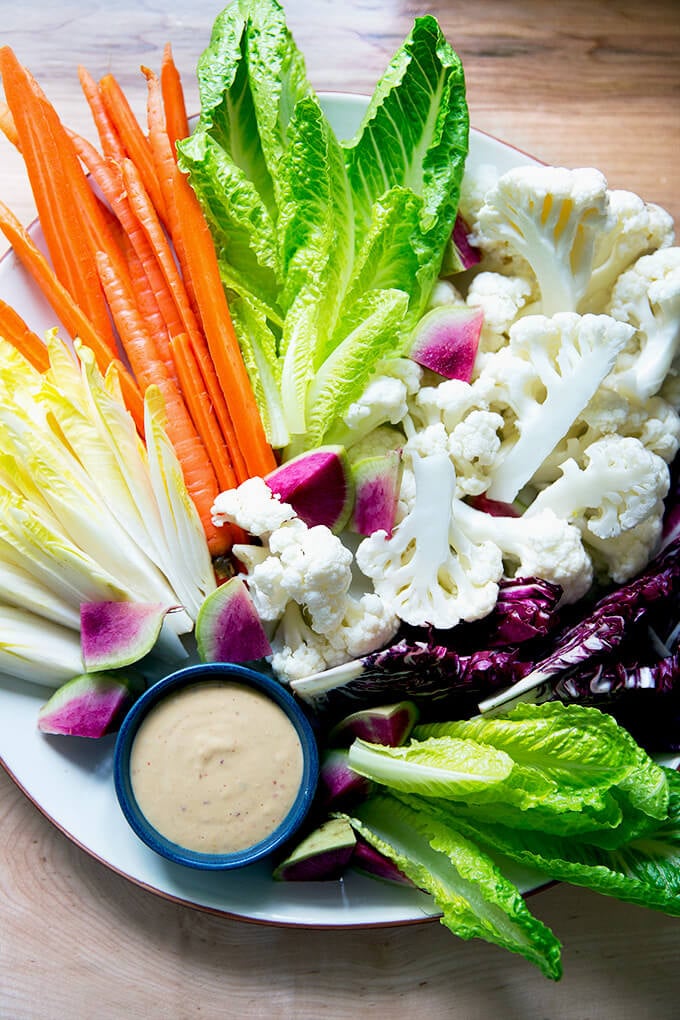 ---
Salads & Sides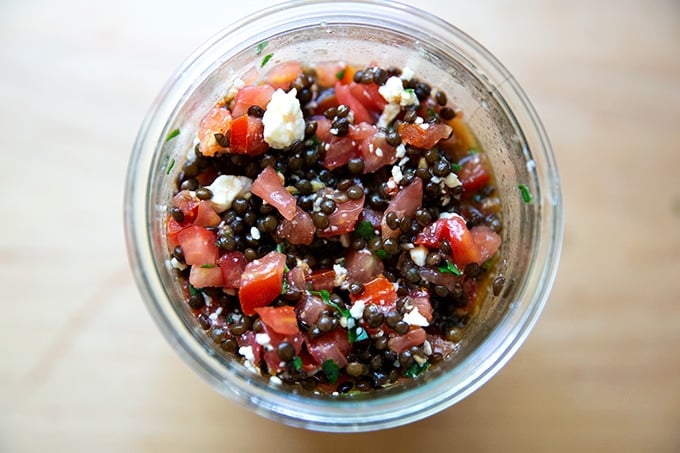 Trader Joe's 3-ingredient lentil salad is one of my favorite summer side dishes to make for its simplicity and flavor. Over the years, I've received many questions about how to make the TJ's bruschetta sauce from scratch from people without access to a Trader Joe's. Earlier this week I finally set to work making one, and here it is: Homemade Bruschetta Sauce. Pictured above is the famous Trader Joe's salad made with from-scratch cooked lentils, homemade bruschetta sauce, and my favorite feta, Maplebrook Farms Feta.
Find Many More Ideas Right Here → Salads & Sides
---
The Best No-Knead Brioche Buns
These no-knead brioche buns are so easy to whip up. The dough takes 5 minutes to stir together, and once it's mixed, you can do one of two things:
Stick the dough in the fridge overnight; then shape and bake the following day whenever you are ready.
Let it rise in a warm spot for two hours; then immediately shape and bake.
I love using the refrigerator when I'm short on time and want to get one step out of the way. Regardless of which path you chose, the buns will be light and airy, perfect for any burger you might find yourself cooking this weekend.
Three Tips for Better Burgers
If you plan on making burgers this weekend, here are three tips to make them even better:
Make a secret sauce. (You likely have all of the ingredients on hand.)
Make quick-pickled onions.
Make the buns: No-Knead Brioche Buns
---
Veggie Burgers
Either of these veggie burgers could be sandwiched between the brioche mentioned above, but if you're up for it, I highly recommend making homemade pita bread, especially if you're making the falafel burgers.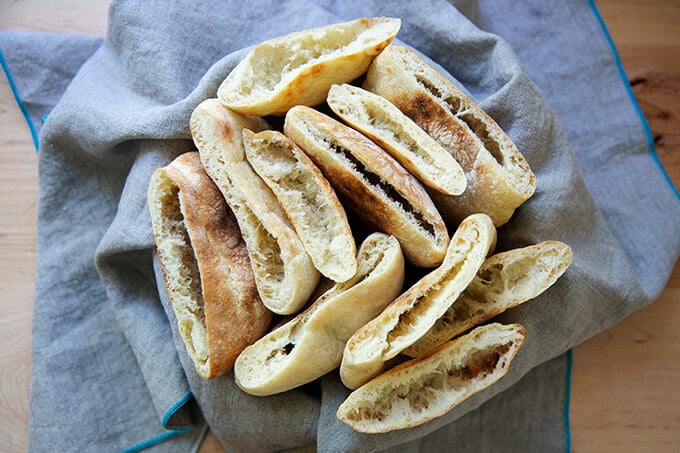 ---
On the Grill
At the start of every grilling season, I find myself asking the same questions: Is marinating really necessary? And if so, for how long? Is salt in the marinade a no-no or a must? What about acid? What kind of charcoal should I buy? Lump or briquettes? Do I grill covered or uncovered?
You can find all of my grilling and marinating tips here: Grilling & Marinating 101. Below are a few of my favorite grilling season recipes (with a few condiments to match).
---
Stuffed Peppers
These veggie-loaded stuffed peppers are a summer favorite. The beauty of them is that they can be assembled ahead of time (a day or so) before their final bake, and they can be served as either a side dish or vegetarian entrée. Bonus: they're stunning!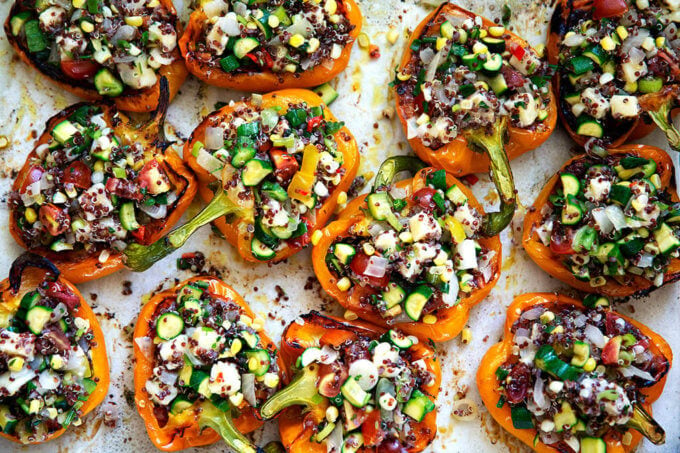 ---
Drinks
If you're looking for a really fun summer cocktail, I can't recommend this strawberry Paloma slushie enough. A paloma is similar to a margarita but it's made with grapefruit juice. This strawberry variation is one of my favorites to make when entertaining because it lends itself to large-batch mixing. The trick? Instead of juicing limes, you peel them and blitz them whole in a blender. And instead of salting the rims of glasses, you add salt directly to the mix, which serves two purposes: 1. Reduces work 2. Enhances the flavor of the juices. 
And if you don't have a go-to margarita recipe, this is my favorite, a classic I make all summer long always to rave reviews.
---
Desserts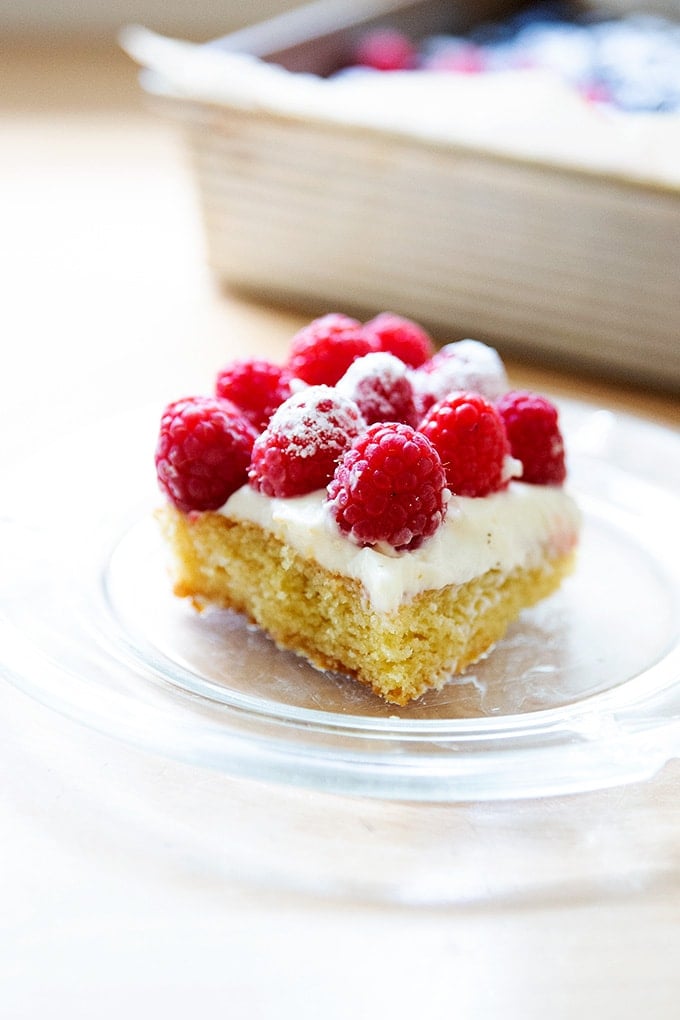 As noted above, for occasions such as the Fourth of July, I have a hard time not making some sort of bubbling berry dessert — anything that welcomes large scoops of vanilla ice cream — but a flag cake is equally festive if not more so. Find a few of my favorite summer desserts below as well as a flag cake how-to below.
Many More Ideas Right Here → Desserts
---
Flag Cake How-To
First, mix up your one bowl batter. This is the same recipe as this one-bowl buttermilk birthday cake recipe: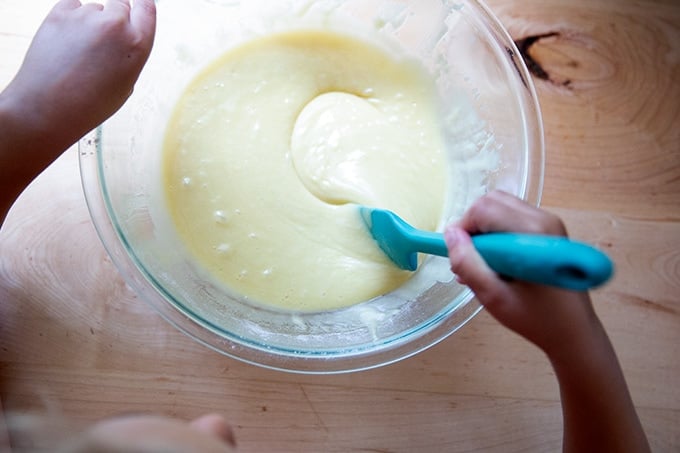 Next, pour the batter into a buttered and parchment-lined 9×13-inch pan. I'm using this USA Pan, which I love: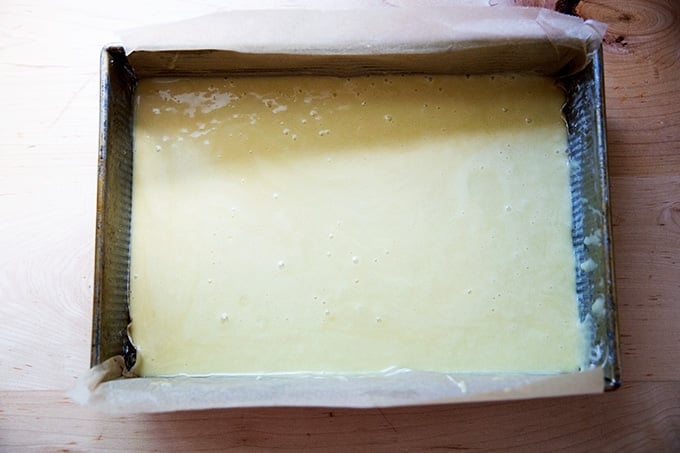 Bake the cake at 350ºF for 25-30 minutes or until evenly golden: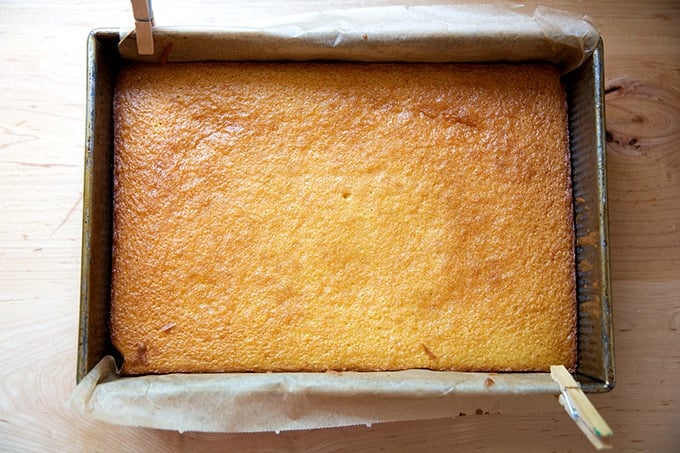 Spread a whipped cream – cream cheese frosting (so good!) over the top: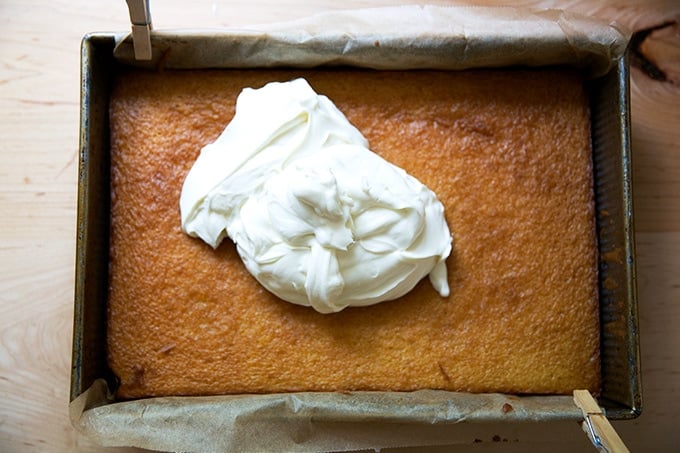 Then start decorating. You'll need to sift confectioners sugar over roughly 1.5 cups of raspberries and 1/2 cup of blueberries.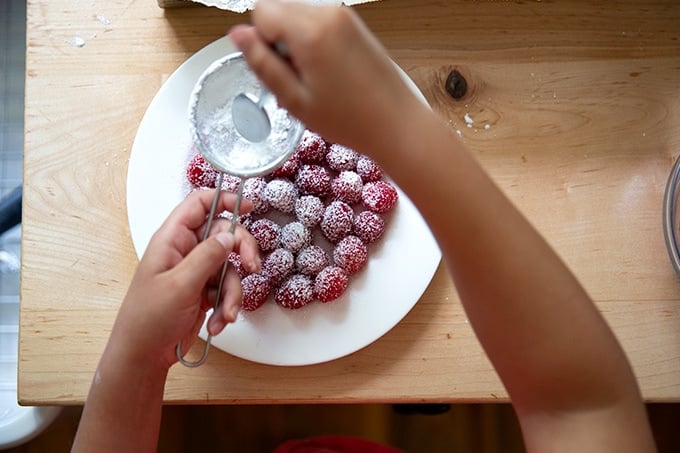 Make the bluberry-star section first; then fill in the raspberry stripes.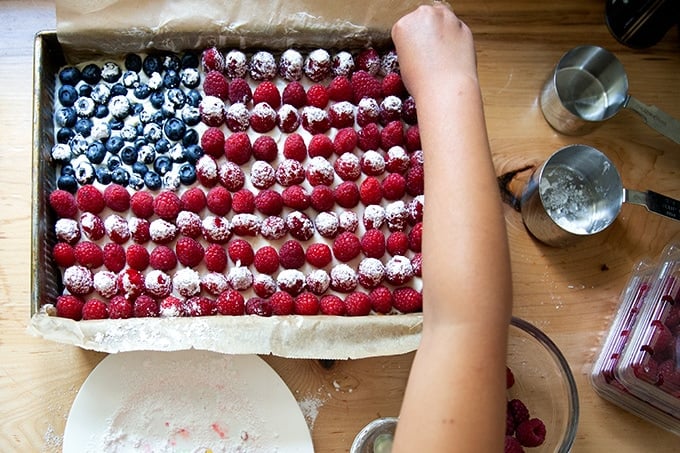 Present your cake proudly, perhaps with a pup by your side.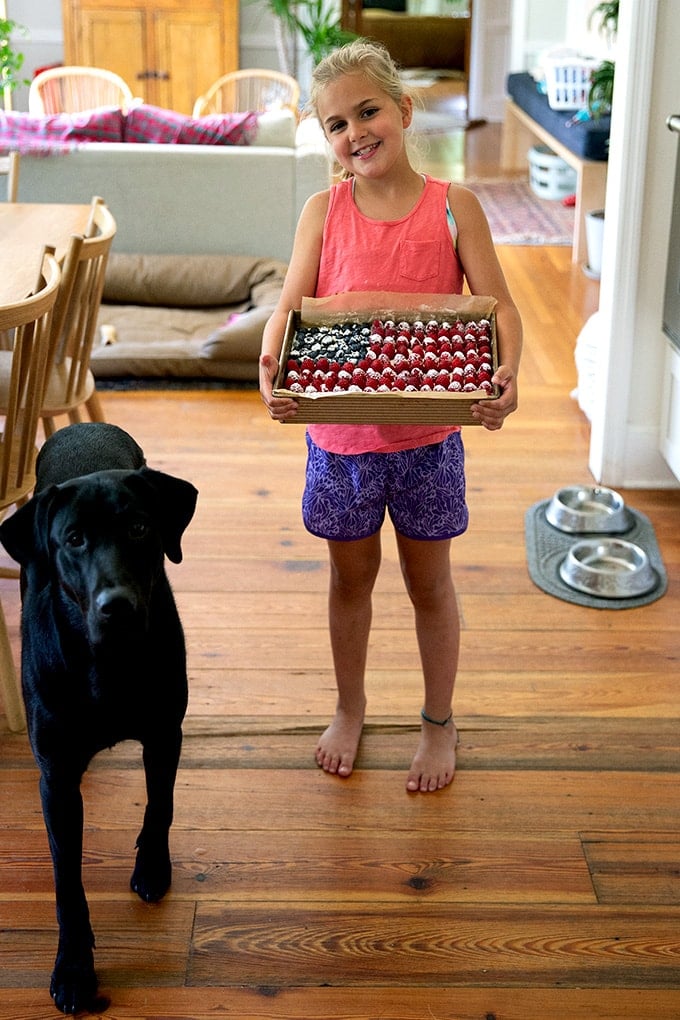 Print
Description
Inspired by Deb Perelman's flag cake. I've used my one-bowl buttermilk birthday cake recipe as the base and my favorite whipped cream-cream cheese frosting, but I've used Deb's assembly method.
The key with the frosting is to make sure the cream cheese is cold. Do not bring it to room temperature before beating it.
---
for the cake:
1 1/2 cups

(

192 g

) all-purpose flour

¼ teaspoon

salt

½ teaspoon

baking soda

1 1/2 teaspoons

baking powder

½ cup

(

115 g

) neutral oil, such as grapeseed or avocado

1 cup

(

215 g

) sugar

2

eggs, lightly beaten

½ cup

+ 2 tablespoons (

158 g

) buttermilk

2 teaspoons

vanilla extract
for the whipped cream – cream cheese frosting:
8 oz

  (

226 g

) cream cheese, cold

1/2 cup

(

100 g

) sugar

2/3 cup

(

140 g

) heavy cream
pinch sea salt

1 teaspoon

vanilla
for decorating:
3

to

4

cups raspberries

1 cup

blueberries
confectioners sugar
---
Preheat the oven to 350ºF. Whisk together the flour, salt, baking soda, baking powder, and sugar. Add the oil, eggs, buttermilk, and vanilla, and stir to combine.
Coat a 9×13-inch pan with nonstick spray (or butter liberally). Line with parchment paper. Pour the batter into each pan and bake for 25 to 30 minutes or until an inserted toothpick comes out clean. Cool in pan completely.
To make the whipped cream – cream cheese frosting: Beat cream cheese and sugar together until light and fluffy. Add the heavy cream, a pinch of salt, and the vanilla. Beat again until light and fluffy.
To assemble: Spread the frosting over the cooled cake. Place half of the blueberries on a large plate. Sift confectioners sugar over the top. Place 1.5 cups of the raspberries on a large plate or small sheet pan. Sift confectioners sugar over the top. Start by making the blueberry-star section. Then make the stripes by lining the bottom edge of the pan with red raspberries (as in not confectioners sugar-dusted). Make a row of confectioners sugar-dusted raspberries and repeat until the stripes are complete.
Prep Time:

30 minutes

Cook Time:

25 minutes

Category:

Dessert

Method:

Oven

Cuisine:

American
Keywords: flag, cake, raspberries, blueberries, buttermilk, one-bowl
[ad_2]

Source link